The "Gipsy" Collection 
The ultimate expression of high-end bohemian styling, the Gipsy Collection is a cornucopia of colours. Charlotte Lynggaard designed this vibrant collection of earrings in celebration of the amazing wonders of nature. Epitomising the designer's notion that fine jewellery is basically an expression of the very best that nature has to offer, Gipsy earrings are a playful palette. Each large pair features soft branches carrying contrasting precious stones, diamonds, and contrasting colours of 18kt. gold.
The New Special Pieces
Select can once again look forward to extraordinary jewelery this year, the so-called Special Pieces of the Gipsy Collection. Let yourself be enchanted by the exclusive earrings.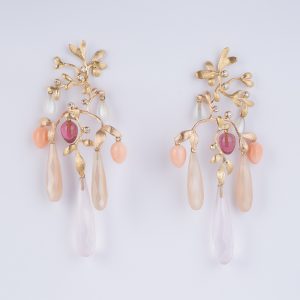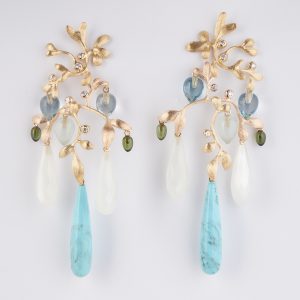 Left picture – Special Piece "Gipsy" earrings with cerise tourmaline, coral and blush moonstone in 18kt. rose gold and yellow gold
Right picture – Special Piece "Gipsy" earrings with sky blue topaz, aquamarine, green tourmaline, white moonstone, turquoise and diamonds in 18kt. yellow gold and rose gold